Custom Safety Sign Guides
Get an Instant Quote!

Answer a few questions and immediately get a price. You'll save money. And, you'll find the industry's most durable signs. For custom orders, you can use one of our templates, upload your own art or just fax us a rough sketch. We'll take your art and turn it into a professional safety sign.
When you need to say something specific to your workplace, try a custom sign. Our highly durable materials are also the most affordable. Check out the comparison chart below to see how much you'll save. And you won't find better quality anywhere else. Find out why so many professionals choose us:
Hassle-Free. Most safety engineers don't want to turn into an artist every time they have to order a new sign. Design, proof, and order a sign in under a minute. In a rush, you can even print a free sign.
Great Prices. Just compare! Order 1 aluminum sign for only $12.95 and 10 for only $9.75 each. The table on the right is for a single custom sign.
Fast & Free Shipping. Orders over $25 ship FREE of cost. Most custom signs ship in 1-2 days.
Durable Materials. These are municipal-quality signs. Laminated for long life, aluminum signs last for 10 over years outside.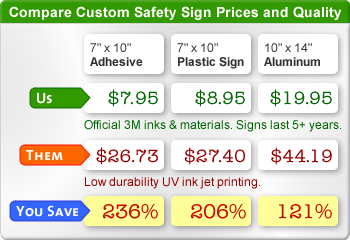 | | |
| --- | --- |
| Custom Safety Signs – Popular | (66840) |
| | |
| --- | --- |
| Custom Safety Signs - Best Selling Templates | (9364) |