Falls remain the leading cause of unintentional death nationwide. Falls from ladders make up 20 percent of all fall injuries and fatalities in general industry. In the construction industry, this number is even higher, at 80 percent.
Falls from ladders are attributed to one or more of the following:
Poor condition of the ladder
Incorrectly positioned ladder
Ladder placed on uneven or slippery surfaces
Wrong techniques applied when working on the ladder
A competent person must thoroughly inspect ladders for any defects before each use. Follow this handy guide to inspect portable ladders before you start working on them.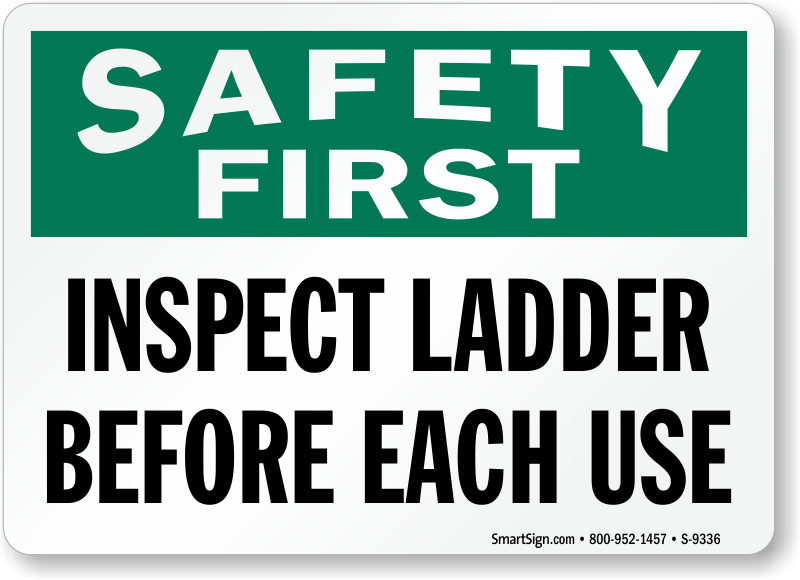 Check for these signs of damage and unsuitable conditions for using ladders:
General inspection:
Loose parts: steps or rungs, nails, screws, bolts, and other materials
Broken, cracked, or split braces, steps, rungs, or uprights
Missing steps or rungs
Splinters on uprights, rungs, or cleats
Splinters or decay on wooden ladders
Opaque coatings on wooden ladders (opaque paints hide defects in ladders and hinder inspection)
Corrugated steps or rungs on metal ladders
Grease, oil, or other slippery substance
Loose joints between rungs and side rails
Damaged non-slip bases
Cracks or splitting on rails
Restricted movement on otherwise moveable parts
Deformities on rails or rungs from heat, chemical or environmental exposure (in fiberglass ladders)
In addition to the inspection above, look for these defects when using:
Stepladders:
Loose or worn parts when the ladder is in the open position
Slippery surfaces
Unlocked or bent hinge spreaders
Broken stop on hinge spreaders
Sharp edges on spreaders
Loose hinges
Stepladders should not exceed 20 feet in length.
Extension ladders:
Broken, loose, or missing extension locks
Defective locks that do not seat properly when ladder is extended
Worn or frayed rope
Extension ladders must extend at least 3 feet, and at most 4 feet, beyond the edge they rest against.
If the ladder is damaged, make sure to mark it with appropriate tags to prevent its use.
You can also use ladder sign shield kits that lock the rungs to render the ladder unusable.
Positioning ladders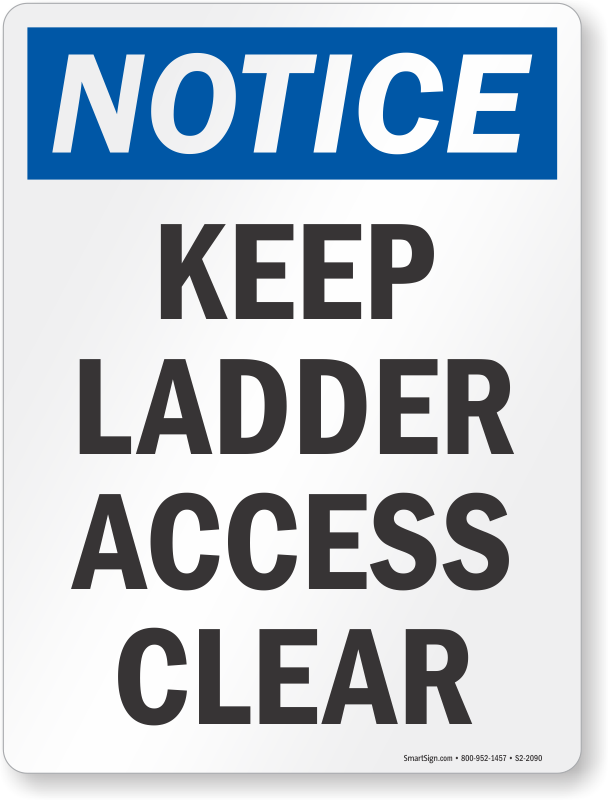 Always use ladders designed for that purpose.
Keep areas near base and top of the ladder free of clutter
Erect ladders on a steady, dry, and non-slippery surface; never on top of boxes or racks, etc. Use a leveler, mudsill, or other firm material to align the ladder on the same level if one foot of the ladder lies in a low spot.
Post barricades and erect signs when using ladders in a crowded area
Do not erect ladders in front of doorways, hallways, driveways unless the door is locked or a guard is posted
Place the ladder such that the base of the ladder is one foot away for every four feet in height of the ladder
Operating ladders safely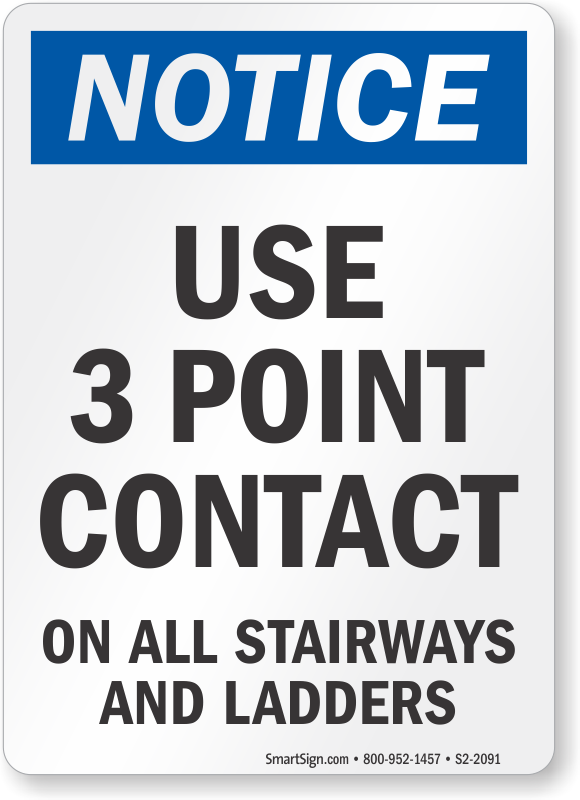 Read all the markings on the ladder and use a ladder as per manufacturer's instructions
Do not exceed the load limit set by the manufacturer. Note the load rating (including the weight of tools or equipment to be used on it)
Look for overhead power lines before using the ladder. Do not use metal ladders near power lines or exposed electrical sources
Maintain a 3-point contact (two hands and a foot OR two feet and a hand) while climbing a ladder
Always face the ladder while climbing and position your body near middle of the step.
Do not overreach when on the ladder. Dismount the ladder and reposition it to get to another spot
Do not step on the top step or rung of a ladder unless it was specifically designed for it
Do not use the top three steps or rungs of a single or extension ladder
Do not move a ladder when a person is on it
Category: Resources