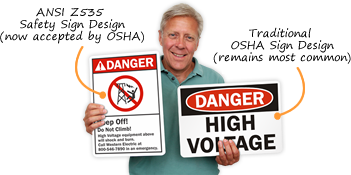 ANSI
Traditional OSHA
Prevalence of designs
10% of market
90% of Market
Common uses

Utility warnings
Equipment Warning Labels
PPE notices

Advantages

Area for detailed or bilingual messages
Clear consequence and hazard avoidance statements

Most common, familiar, and tested system
Short headers are quickly understood
Large library of stock designs.

Disadvantages

Overuse of warning headers
Too often designed by lawyers
Reliance on untested symbols

Overuse of danger headers
Lower legibility for complex warnings.
Many different safety sign systems continue to coexist, but the design principles remain the same. Click on our OSHA or ANSI guides to learn how to design an effective safety sign.