Fire Hydrant Rings
(64082)
Hydrant rings
or
hydrant markers
provide important information to firefighters regarding the functionality and ownership of hydrants.
• Fire hydrant rings can be affixed to the bigger valve of the hydrant. Once the valve cap is replaced, the hydrant ring cannot be taken off until the next time the valve cap is removed.
• Order our printed rings to prevent unauthorized use and communicate maintenance or repair needs, or use a blank ring and add your own message.
• Rings are fabricated out of highly durable plastic (available with both reflective and non-reflective films) that withstand high temperatures. Reflective rings can be easily spotted even when it's pitch dark.
• Rings come in different inner diameters to correspond to the diameter of the valve.
• For more information, visit our - Fire Hydrant Rings FAQs
Look for this Symbol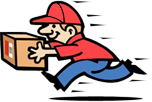 Ships Tomorrow
. Order within
00 hrs 00 mins
---
More Fire Safety Signs
(91022)
Frequently Asked Questions
Q.
Do fire hydrant rings have to be reflective?
A.
The NFPA recommends that fire hydrant rings be reflective to ensure visibility in poor lighting conditions as well. Since power failures/cuts are often a given during fire emergencies, reflective hydrant rings enable emergency responders to locate the equipment quickly.
Q.
Which material do you use for making fire hydrant rings?
A.
We offer economy and heavy-duty fire hydrant rings made using 15 and 55 mil thick, highly durable plastic. Our heavy-duty material easily outlasts other competitive options available in the market. These rings promise excellent weather resistance and are available in all the NFPA-recommended colors. Reflective formats are available as well.
Q.
What size of valves are your hydrant rings suitable for?
A.
Our hydrant rings have a 10.50" outer diameter and different inner diameters to match the diameter of the valve. You may choose between 4.75" and 5.75" inner diameter valves.
Q.
What color options are available for custom fire hydrant markers?
A.
The custom fire hydrant marker is available in seven colors, NFPA colors included. The text on the rings is printed in contrasting white or black colors to ensure it stands out.
Q.
What is the installation method of these fire hydrant rings?
A.
It is easy to affix our fire hydrant rings to the bigger valve of the hydrant. Once the valve cap is replaced, the hydrant ring cannot be taken off until the next time the valve cap is removed. The larger interior hole, the 5.75" i.d. option, is widely preferred. It fits the 4.5" steamer- nozzles / ports.
The heavy-duty plastic rings are skilfully placed underneath the hydrant's valve to ensure that potential vandals are unable to remove the ring without completely dismantling the hydrant.
Q.
We need customizable fire hydrant rings for our area. Do you have any options?
A.
We most certainly do. Our custom fire hydrant ring is super-easy and quick to create. Simply choose a color from 7 options and add your personalized text, like department name or town. You can also leave any special instructions, if required, for the artwork team. All artwork customization is always completely free of cost!
Q.
How can I find out the status of my order?
A.
You may reach out to us on 800 952 1457 or email at [email protected] with the order number and our team will share the status with you.
Q.
Will I get an invoice with my order?
A.
Yes. The invoice will be shared with you in the order confirmation email we will send once you have placed the order. You can also ask for the invoice by contacting our customer service team on 800 952 1457 or [email protected].
Q.
Does promotional shipping apply to fire hydrant rings?
A.
Promotional shipping is offered in 48 US states and excludes heavy/oversized items. Should your order be eligible for promotional shipping, it will be indicated during the checkout process.
Customer Reviews