When working with Hazardous Goods or Materials, any harmful waste should be kept in protected areas that are indicated by Hazard Signs.

Dangerous goods or Hazardous Materials (HAZMAT) that can harm visitors, employees or the environment must be labeled by placards, signs, drum labels, wallet cards, and NFPA signs.

Choose the appropriate HAZMAT signage to indicate if materials or areas are flammable, radioactive, cancerous, biohazardous, explosive, toxic, corrosive, or is harmful to anyone in any way. Labeling non-hazardous materials, disposal of chemical waste and chemical storage areas in your facility where Hazardous materials exist is also recommended to notify staff and customers.
Look for this Symbol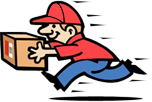 Ships Tomorrow
. Order within
00 hrs 00 mins
---