Flammable Placards
(67522)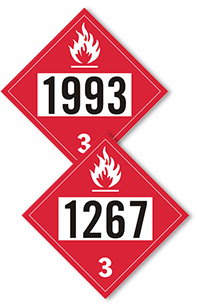 Flammable materials are demanded by law to exhibit visual identification according to P.O.P. regulations from 49CFR part 172.500. Whether international or domestic transit, shipments containing these lethal and dangerous materials need placard identification to ensure the safety of transportation lines around the world. FlipPlacards offers a diverse range of
flammable placards
for Classes 2, 3, and 4 hazardous materials. Two solutions allow you to label your shipments as Flammable materials. Both polycoated water resistant tagboards and long lasting self-adhesive removable vinyl placards are available for your picking. Flammable liquids, solids, and gases need to be labeled in the correct manner.
• Use either option to ensure your shipments abide by regulations and promote safety during transit.
• Don't allow your shipment to pose a safety or legal risk, mark your containers with these flammable placards.
• For more information, visit our - Flammable Placards FAQs
Look for this Symbol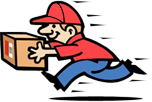 Ships Tomorrow
. Order within
00 hrs 00 mins
---
More HazMat Placards
(67530)
Frequently Asked Questions
Q.
What are tagboard flammable placards made of?
A.
Our tagboard flammable placards are made of a 16 point board and printed flexographically with lightfast inks. They feature a water-resistant coating and last at least two years outside.
Q.
What sizes are the flammable placards available in?
A.
We offer flammable placards of a uniform size of 10.75" x 10.75". The point-to-point measurement of these diamond-shaped placards is 15.2" x 15.2".
Q.
Are vinyl flammable placards reusable?
A.
Yes. Vinyl flammable placards come with a removable adhesive that sticks to metal or fiberglass. These are great for temporary use on vehicles. Please note that the longer this placard is left in place, the stronger the adhesive bond will become.
Q.
Should I opt for tagboard or self-adhesive vinyl material for flammable placards?
A.
Both tagboard and vinyl placards are our premium offerings. Where tagboard placards are made from a 16 point thick board with a water-resistant tagboard coating, vinyl placards are 4.5 mil thick and tear-resistant. You may choose either, depending on your installation preferences. Tagboard placards fit into standard plastic or aluminum holders and are easily swappable. On the other hand, vinyl placards come with a removable adhesive (gets stronger with time) and can be directly applied to the truck.
Q.
Where do I get placard holders from?
A.
You can easily order placard holders during checkout as add-ons for your placards. You may also explore them here and choose from riveted, rivetless, economy, and ones with clipped corners.
Q.
When are non-flammable placards used?
A.
Non-flammable placards are used when transporting gases that don't catch fire. These are a type of Class 2 placards and are green in color. We offer these in both tagboard and adhesive vinyl materials.
Q.
What is the 1267 placard? When is it used?
A.
The 1267 placard is a hazmat placard used to indicate Class 3 flammables being transported. More specifically, it denotes petroleum crude oil identified with the UN number 1267.
Q.
How do I decide which flammable placard I need?
A.
Your choice of flammable placard will depend on the material you will be transporting. Class 2 flammable placards are for gases, Class 3 for flammable and combustible liquids, and Class 4 for flammable solids, spontaneously combustible material, and substances that may be dangerous when wet. Many of these placards carry unique UN numbers to identify specific materials further. You may refer to this federal resource for more precise details.
Q.
What do the blue flammable placards mean?
A.
The blue flammable placards indicate materials that may be flammable when exposed to water, like sodium. These have the flame symbol and the number 4 to denote Class 4 of hazardous materials.
Customer Reviews