Radioactive Placards
(67561)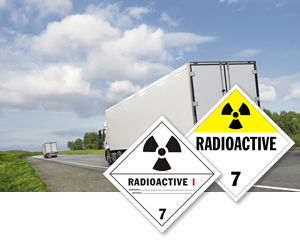 Class 7 radioactive hazardous materials
are a potential danger during transit. Make sure your shipments are legal and secure with a clear, descriptive marker. The heavyweight tagboard fits right on the standard holders, so you can always switch out the placard if you need to.
• The self-adhesive option sticks quickly on shipment surfaces, and peels off without leaving any residue.
• P.O.P. regulations from 49CFR part 172.500 state that all domestic and international shipments of hazardous materials must have visual identification on their containers when moving on highways, by rail, or by boat.
• For more information, visit our - Radioactive Placards FAQs
Look for this Symbol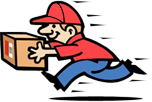 Ships Tomorrow
. Order within
00 hrs 00 mins
---
More HazMat Placards
(67622)
Frequently Asked Questions
Q.
What do radioactive 7 placards mean?
A.
The radioactive 7 placard identifies a shipment that carries radioactive materials. These placards are crucial to warrant special precautions to prevent the harmful effects of any accidental mishandling of radiation-emitting substances.
Q.
What materials are radioactive placards made of?
A.
We offer radioactive placards in two layouts — tagboard placards that fit into plastic or aluminum holders and placards that are adhesive. Tagboard placards are made from a 16 point board with a water-resistant coating.
The adhesive labels are available in two material choices — vinyl and coated paper. Both vinyl and coated paper labels have a permanent acrylic adhesive. Where coated paper labels flaunt a glossy finish and are scuff-resistant, their vinyl counterparts are scuff as well as water-resistant.

We also offer Class 7 Radioactive removable vinyl placards that are tear-resistant and have a removable adhesive that bonds well to metal or fiberglass. These are great for temporary use on vehicles or trucks. All our placards and labels are flexographically printed and comply with DOT's performance-oriented packaging standards.
Q.
Do radioactive labels come in a roll?
A.
Yes, they do. Our vinyl and coated paper radioactive labels come as rolls with each roll containing a total of 500 adhesive labels. You may apply these to boxes, shelving, plastic drums, and other containers. You may also order dispensers separately to keep your labels organized and handy.
Q.
Which placard application options do you offer?
A.
You may apply our placards in two ways depending on your preferred placard material. Vinyl placards have an adhesive backing and do not need any separate application tool. They easily conform to any package or container. Tagboard placards can be conveniently installed with the help of placard holders on vehicles carrying hazardous material. We offer both plastic and aluminum placard holders. The aluminum holders are available in riveted, rivetless, and clipped-corner designs.
Q.
What is a Flip-n-Lock radioactive placard?
A.
A Flip-n-Lock placard is our one-size-fits-all solution to your hazmat placarding requirements. It features multiple DOT legends, radioactive included, in a single holder for you to flip between as required. You may choose from 10 and 15 legend Flip-n-Lock placards, available in natural finish aluminum bases.
Q.
How are radioactive-I labels different from radioactive-II and radioactive-III labels?
A.
Radioactive-I labels are used for radioactive materials with extremely low radiation levels. On the other hand, radioactive-II and radioactive-III labels indicate materials with low and higher radiation levels, respectively. We offer these labels in coated paper and vinyl materials for you to choose from.
Q.
How much shipping will I have to pay for radioactive labels?
A.
Shipping cost is a variable that depends on factors such as carrier, shipping speed, weight, and distance. You may calculate the cost applicable to your order using the "estimate shipping cost" button available during checkout. All you will need to do is simply mention your zip code, select your shipping method, and you will find the correct shipping cost.